The Class
A Little Dramatic is a fun, highly engaging class for children aged 3-5, that educates and provides great opportunities for your child to develop (all whilst having a truly fun time!).
The classes include role play, games and activities which encourage creativity, cooperation, control, communication and build confidence. This is not a class that will lead to any 'shows', but a fun weekly class that children will find joyful and nurturing. We have a clear structure to class which enables children to feel secure and safe to take risks, while also ensuring each class is filled with new and exciting games and activities. The balance of "familiarity" and "new experiences" are where we feel the classes shine.
Drama can be a transformative force in the lives of children, teaching them confidence, independence, and critical thinking skills. At A Little Dramatic, we believe that all children should have the opportunity to explore their creativity and imaginations through drama. Our classes are designed to help children cooperate and communicate effectively, take risks with awareness and control, and show sensitivity and creativity. We believe that every child has the potential to succeed in life, and our goal is to help them reach their full potential.
Educational Benefits
The classes are planned and developed with a strong understanding of the EYFS framework, of how children progress and learn, and knowledge and experience of what children value and enjoy.
At the heart of the sessions however is the idea of "serious fun" – playing with self-control.
Children often find both of these ideas contradictory, older children often lose their ability to 'play' creatively (as their social awareness grows they often lose their ability to act without fear of judgement) whilst younger children struggle with control and cooperation.
Taking part in Drama activities helps students to develop both play and control simultaneously, and has a real impact on their confidence and self-esteem.
The EYFS is based on four overarching principles: A Little Dramatic encompasses these principles using the Five "Cs":
We strive to create opportunities for children to show their unique personalities building confidence and creativity
We build positive relationships by developing skills of cooperation and self-control
We develop enabling environments by providing a wealth of activities
We allow students to develop in different ways at different rates by using a variety of different structures and developing strong communication skills within solo, pair, group and whole class work.
A Little Dramatic also incorporates all seven areas of learning for EYFS.
Communication and language – We constantly explore communication, verbal and non-verbal, as we look at character and storylines in every class. Speaking and Listening skills are developed throughout each and every class.
Physical development – We often explore character's movement and ideas of heavy/light, fast/slow etc. All classes will involve physically active games.
Personal, social and emotional development – as we explore characters we will look to build skills in empathy and develop the understanding that emotions are connected to actions.
Literacy – Children's interest in stories and sounds will be sparked in the classes – we explore stories, poems and a wide range of stimuli. Children speak and listen continuously and develop skills in expressing themselves verbally. This in turn will have a big impact on their learning of written language as they develop confidence in storytelling and using language in "context" – whether the context is on the moon, in the playground or in a petri dish!
Mathematics – We encompass this totally, much to the amazement of many! For example children will often get into groups of a certain number, create shapes and patterns using their bodies, contemplate mathematical ideas such as weight (playing a ballerina/a weightlifter), speed (anxious characters in a hurry/millionaires with a yacht to relax in), and even using levels and space to create interesting images (upstage/ downstage/ stage left/ stage right).
Understanding the world – The classes give students the chance to "explore" worlds and communities beyond their reach, be it Ancient Egypt, a holiday in Malaga or even a trip under the sea.
Expressive Arts and Design – A Little Dramatic enables children to explore and play with a wide range of media and materials, as well as providing opportunities and encouragement for sharing their thoughts, ideas and feelings through a variety of activities in movement, speech and role-play.
The classes are undoubtedly "educational" – but the aim is that the children don't contemplate how much they learnt, but that they contemplate what they "experienced" and feel they had fun!
About Me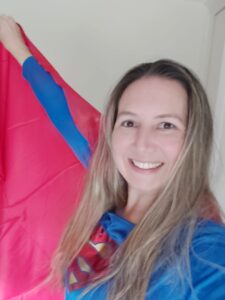 I am Deborah Mears, a qualified Drama teacher with over 15 years of experience in both Secondary and Primary Education settings, a mother of two wonderful children, an avid theatre-goer and I am obsessed with Maths! (yes, it's true!)
I attended the Academy Drama School and trained in the Acting foundation course before getting my degree in Education Studies with Drama. I then worked as an LSA and went on to train as a Drama teacher at Beal High School.
After completing my GTP and gaining QTS, I became a Teacher of Drama at West Hatch High School for four years, a school I have nothing but wonderful memories of! I left to become Head of Drama Department at Roding Valley, which I then left to become Head of Performing Arts (Dance, Drama and Music) at Central Foundation Girls' School where I stayed for 2.5 years. I adored this job and the entire school.
After I had my first child I decided a change was needed and became the Drama Specialist at Vicarage Primary School, working part time. I now work with children across the whole school (roughly 800 children from nursery to Y6) and love it! I became an Arts Award Advisor for the Primary age group and have successfully delivered Arts Award qualifications for my UKS2 students.
During the pandemic I teamed up with National Drama to deliver Drama classes for the nation via Oak National Academy. I created eight lessons, four about Greek Myths and Norse legends, and four about Migration. I have since become the Primary Drama Officer for National Drama and am about to build a separate parallel business "Deborah Mears Drama", which will focus on my work with Primary Schools around the country and internationally.
I created this business in June 2018 for many reasons: I desired to work outside of my normal hours so I could be around for my children, and creating a business where my love of teaching and my love of drama combined was a way I could have a job where I do "what I love".
My mantra is "Drama is Serious Fun", and it's fun that I take seriously. With these classes I hope to inspire your children to (a) try their best in any and all opportunities and (b) to "go for it" – these are my only rules!
If you attend the classes you may be surprised at how much of a fool I am willing to look, but don't feel sympathy – I love every minute!
If your child is having a great time, your life becomes much easier and happier! So I hope you and your child find A Little Dramatic lots of fun and encourage you to ask any questions or provide feedback at any point in the term.