Birthday Party Packages
We offer Birthday Parties that can be customised to any theme. We can cater for all ages. Please note, my insurance will be invalidated if I break any covid guidelines so I ask you to be vigilant of the current restrictions when booking, understanding they may change quite suddenly. Props will be well cleaned and a well ventilated area will be required.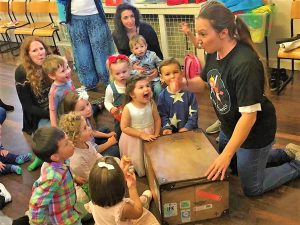 Each party takes your children on an adventure to discover the missing Birthday Cake(s). The standard format will see your children journey to discover a note written in Dragonese. Dave the Dramatic Dragon will be able to help the children discover what the note says and will instruct them to take part in 'quests' to find the missing birthday cake. When the children complete all their activities, with some magic (and help from friends and family) the Birthday Cake can arrive and the candles can be blown out. Finally we will have some more games (to enable you to prepare the cake and/or the rest of your party).
Prices are:
£100 for a 45minute party
£120 for a 1hour party
£140 for a 1hour 15minute party.
The more time you require, the more "quests" the children will go on.
I am more than happy to dress up for the theme, however if you require a very specific outfit (such as a specific princess or another specific character) there will be an additional cost.
To book a birthday party:
Please email us with the date, time and length of party you require, and if we have availability we will invoice you and ask for your ideas on the theme.
You will be charged a 50% non refundable deposit to reserve your party and will be asked to pay the remaining 50% on the day of the party.